ModPod Solar Charging Station
Rethinking Environmentally Sustainable Furniture for Public Spaces
The ModPod, developed in partnership with Better Block Foundation and Good Faith Energy, is a radical rethink of how we build for public spaces. It is modular, environmentally sustainable, easy-to-use, and fits into an environment in whatever way you want. Its many optional 'mod'-ules define what a ModPod means to a space. If you wanted to just have public seating, it can be placed on its long side and be used as a bench. If you want seating for one that gives you some shade, it becomes a tall 'pod' that's oddly reminiscent of a telephone booth in size and an actual telephone in shape. Given its outside panels are filled with mod extension points, you can on easily attach any number of mods including but not limited to: a bike rack that doubles as a device safe, a storage bin, a coat hook, a lighting mod for night use, an outlet for charging, and most importantly, a solar module to charge your devices. The flexibility of placement creates many ways to use the ModPod, and the best part about it is you get to decide how it is built. ModPod is currently being refined for publishing on Wikiblock, Better Block's open-source platform for public furniture. We are also working with Good Faith Energy to further develop the solar energy mod, proofing the concept for long-term use.
The Ask and the Vision
Each semester at the Deason Innovation Gym at SMU, we host an immersive design challenge (IDC) that pairs a group of students with a major client to help tackle a problem that either the client has or one found within the community itself. This project sought to address issues observed by two clients with very different backgrounds with one solution. Good Faith Energy wants to create a way to bring solar energy to the masses by reducing the informational overhead required to understand how solar PV systems work and just how much you offset your carbon footprint by using it. Better Block Foundation's mission is to educate, equip, and empower communities and their leaders to reshape and reactivate built environments to promote the growth of healthy and vibrant neighborhoods. Wikiblock is Better Block's push to lower the barrier to entry on fabrication, making it easier than ever to create the pieces that make up a "better block" without the need for architects, carpenters, or contractors. The big question that helps address these two disparate goals is simple: how can we bring solar charging to a public space, make it look like it belongs, and empower people to find different ways to use it?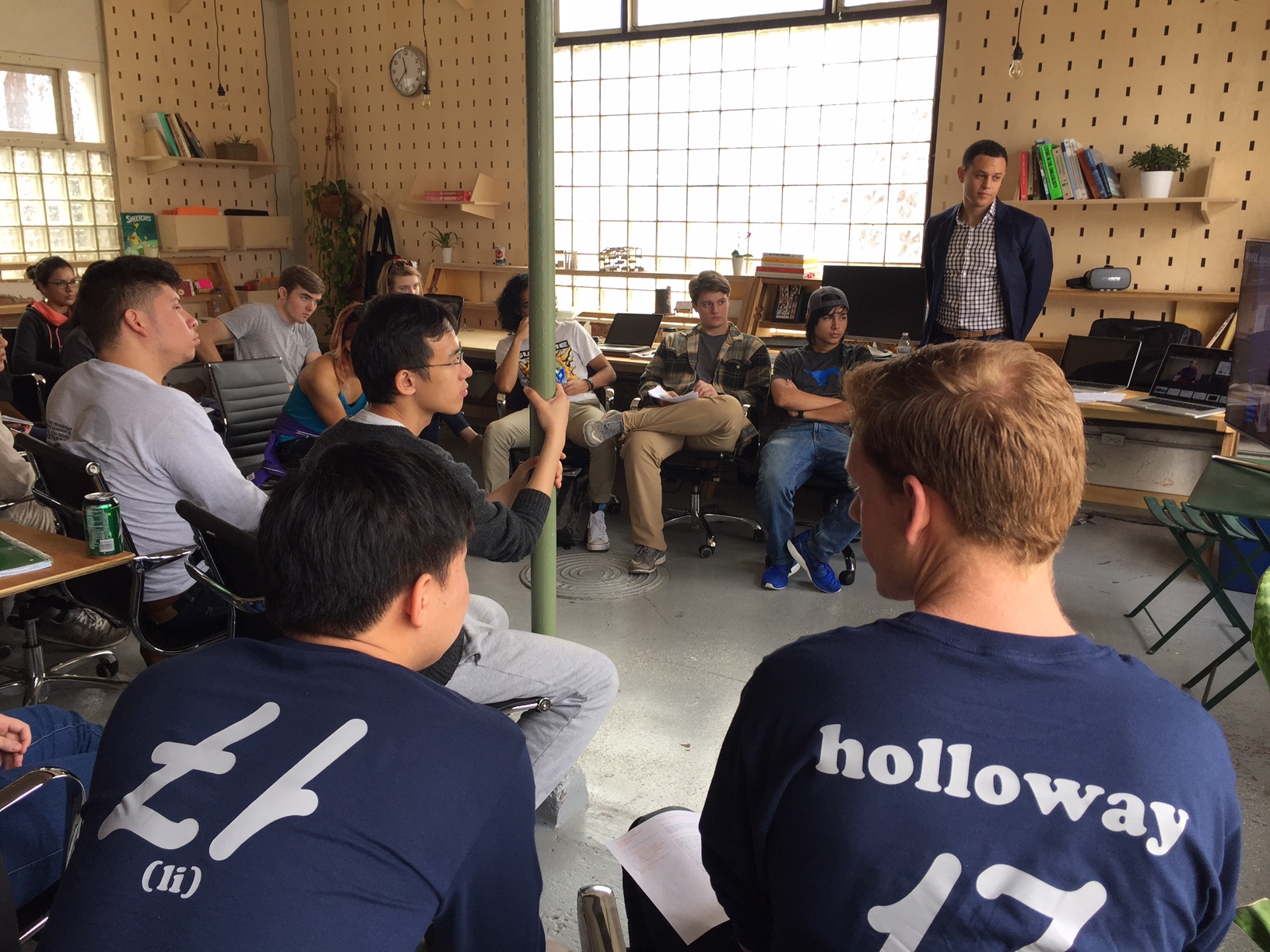 Design Research
Anyone can put a pre-built solar charging unit in a public space for people to juice up while they are on the go. However, this does not guarantee people will like it wherever you plop it down. If it's not convenient, people aren't going to use it. If it doesn't look sturdy, people aren't going to sit on it. If it doesn't charge their phone quickly and reliably, people are just going to find the nearest coffeeshop instead. In designing the ModPod, we needed to keep in mind this question: what happens when we design urban spaces without thinking about the people residing in those urban spaces? When we don't think about people, we lose out on all the valuable insight the user might provide to inform the design. We sought out community activists and community members alike, to help build a better picture from both a user's and an organizer's perspective of the impact of a solar charging station for public spaces. Form factor is one thing, human factors are another. The answers we received helped us narrow down the possible use cases of the solution. Where could you could potentially put the ModPod? Some ideas that came up included hiking trails for emergency use, bus stops while you're waiting, disaster situations when there's no grid power, or maybe concerts/festivals where there's a lot of space but no access to power. The picture painted by user stories helped slowly shape the design of the ModPod itself. Its form went through many, many iterations before our team settled on what it should look like and how it should work.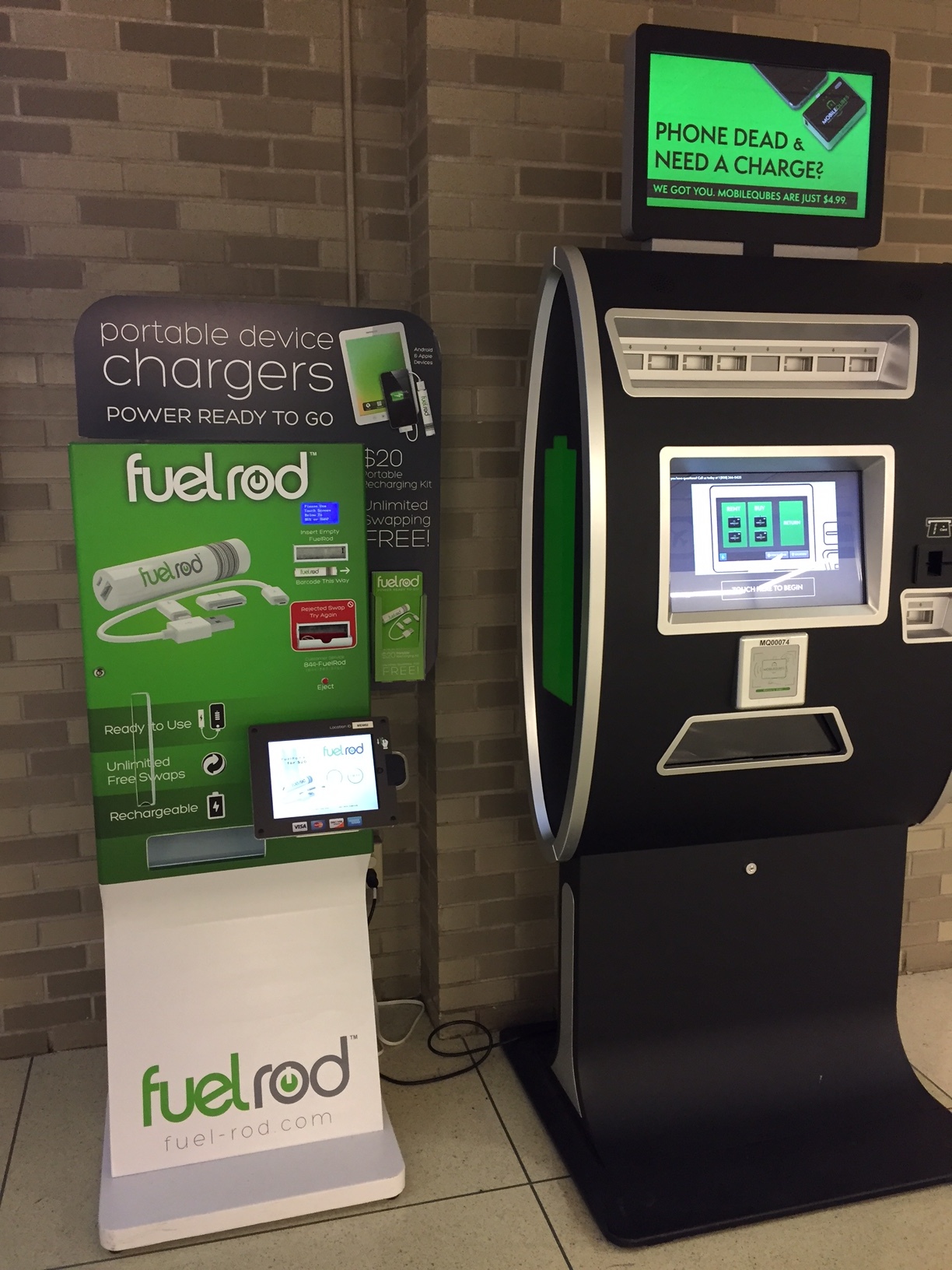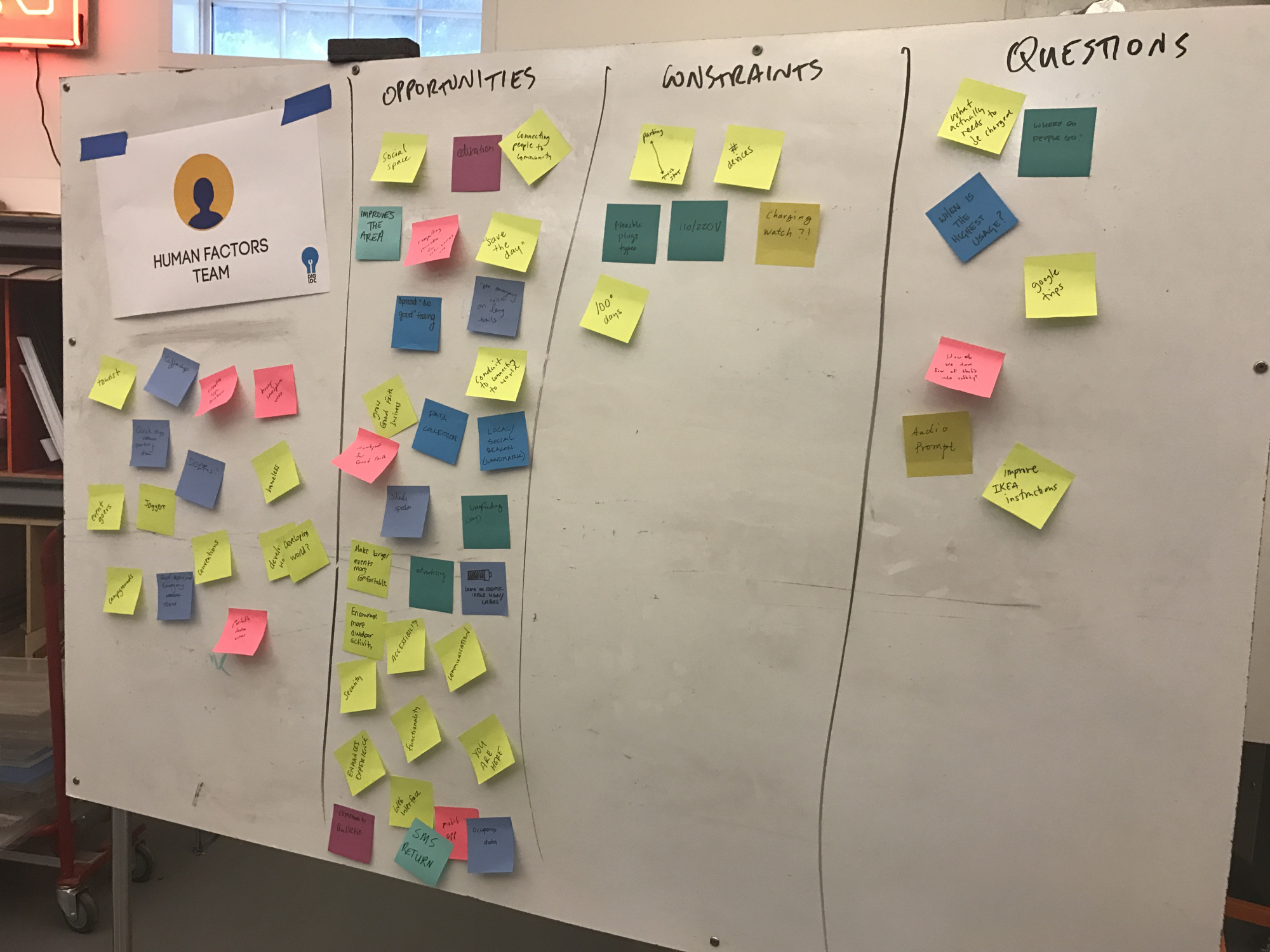 The Deliverables
The ModPod is designed with flatpack assembly in mind, meaning you can download the open-source designs from the internet, buy some 4'x8' sheets of plywood, find your local makerspace or machine shop with a CNC router, and make as many as you want. When it comes to putting it together, all it takes is some elbow grease; no tools required, although a mallet may help. The ModPod's physical design allows it to be installed standing up as a single person seat, or on its side as a bench for communal use. The '+' shaped holes around the entire structure allow mods to be attached in any direction desired. It's up to the designer of a community space to decide how they want to use their ModPods. Specific outlet mods can be placed anywhere on the ModPod as well to accommodate different charging situations. ModPods can also be chained together, allowing the optional solar mod to provide power to multiple adjacent ModPods through wire extensions run on the inside.
We also sought to find a better way to approach solar charging in a public space. The ModPod's compact solar mod attaches to the ModPod in whatever placement that maximizes sun exposure and provides ports that can be hooked up to three outlets that can be placed anywhere on the exterior. The battery, charging circuits, energy management, and computer are all safely contained in a sealed, watertight box that sits inside the ModPod. The included computer not only tracks statistics of solar energy usage in real time, it can also double as a portable wi-fi hotspot that can be used to push relevant community or event information. For this use, we created a ModPod-specific virtual bulletin that is hosted on the ModPod's computer.
All of these features demonstrate the ModPod's uniqueness in its ability to extremely modular, and that is what makes it particularly useful to a diverse set of situations.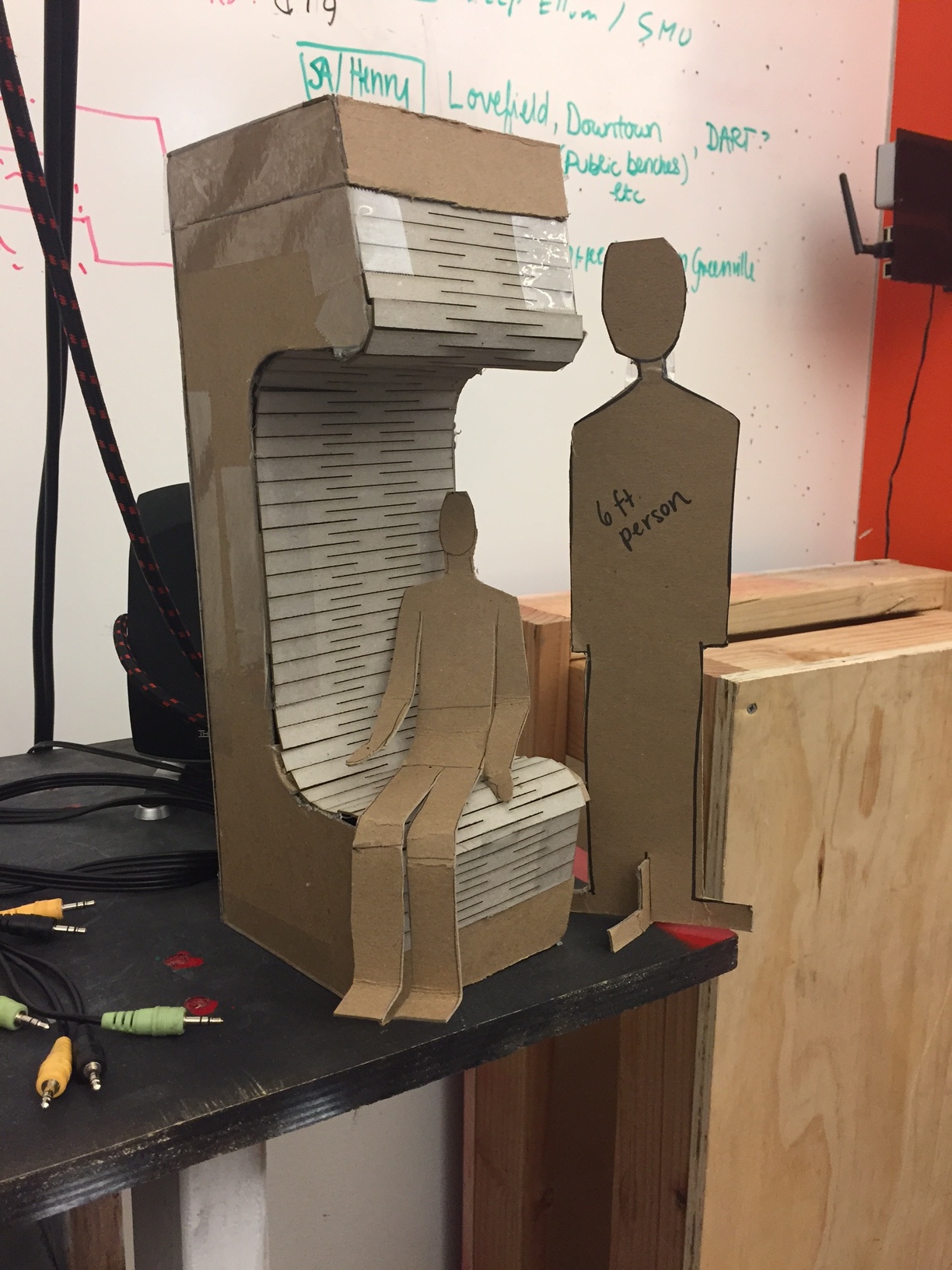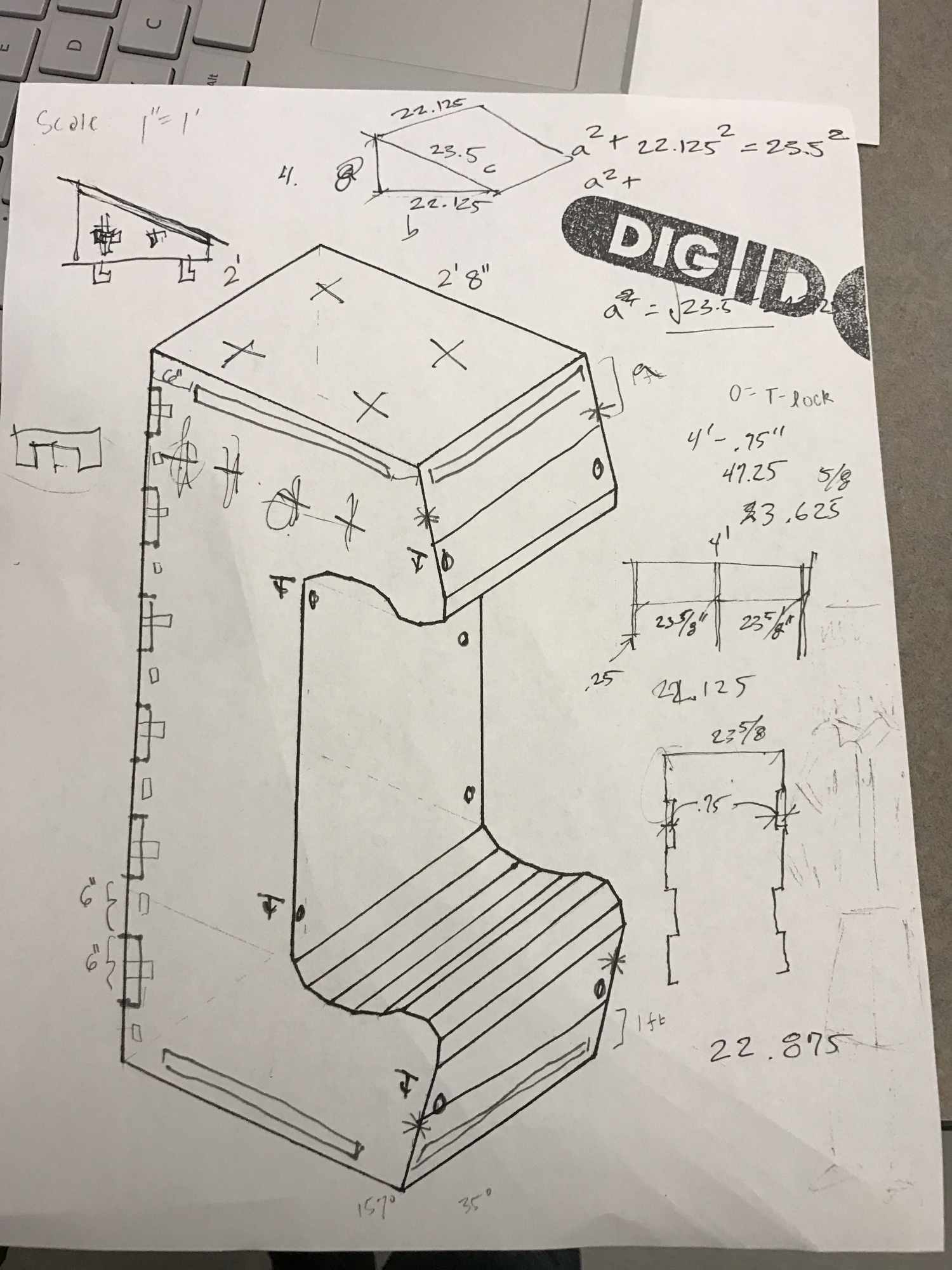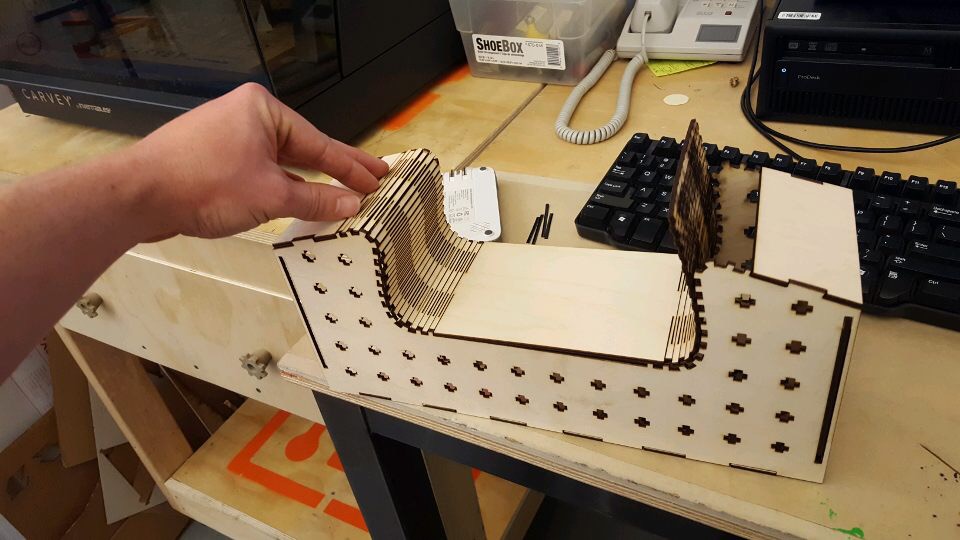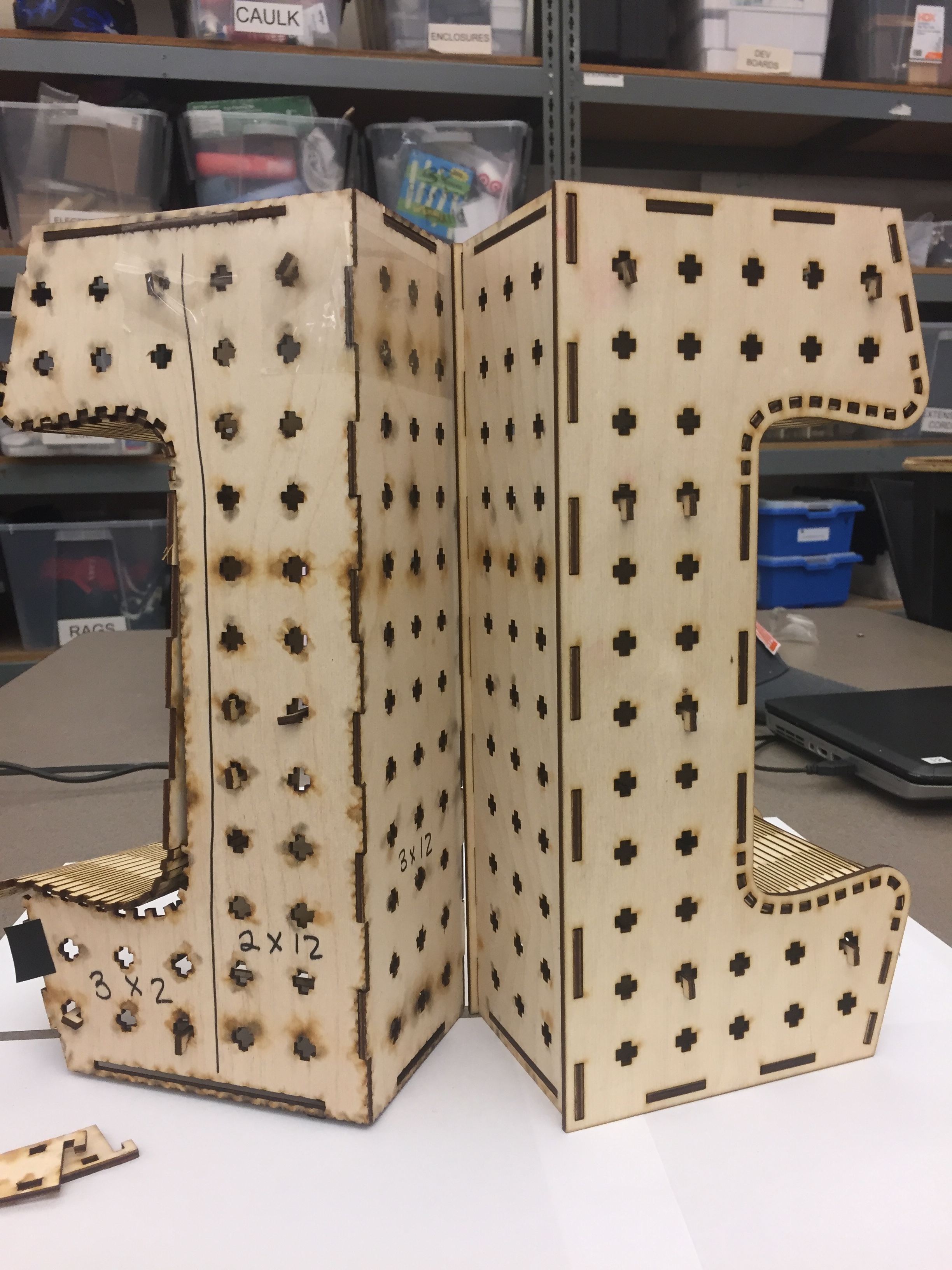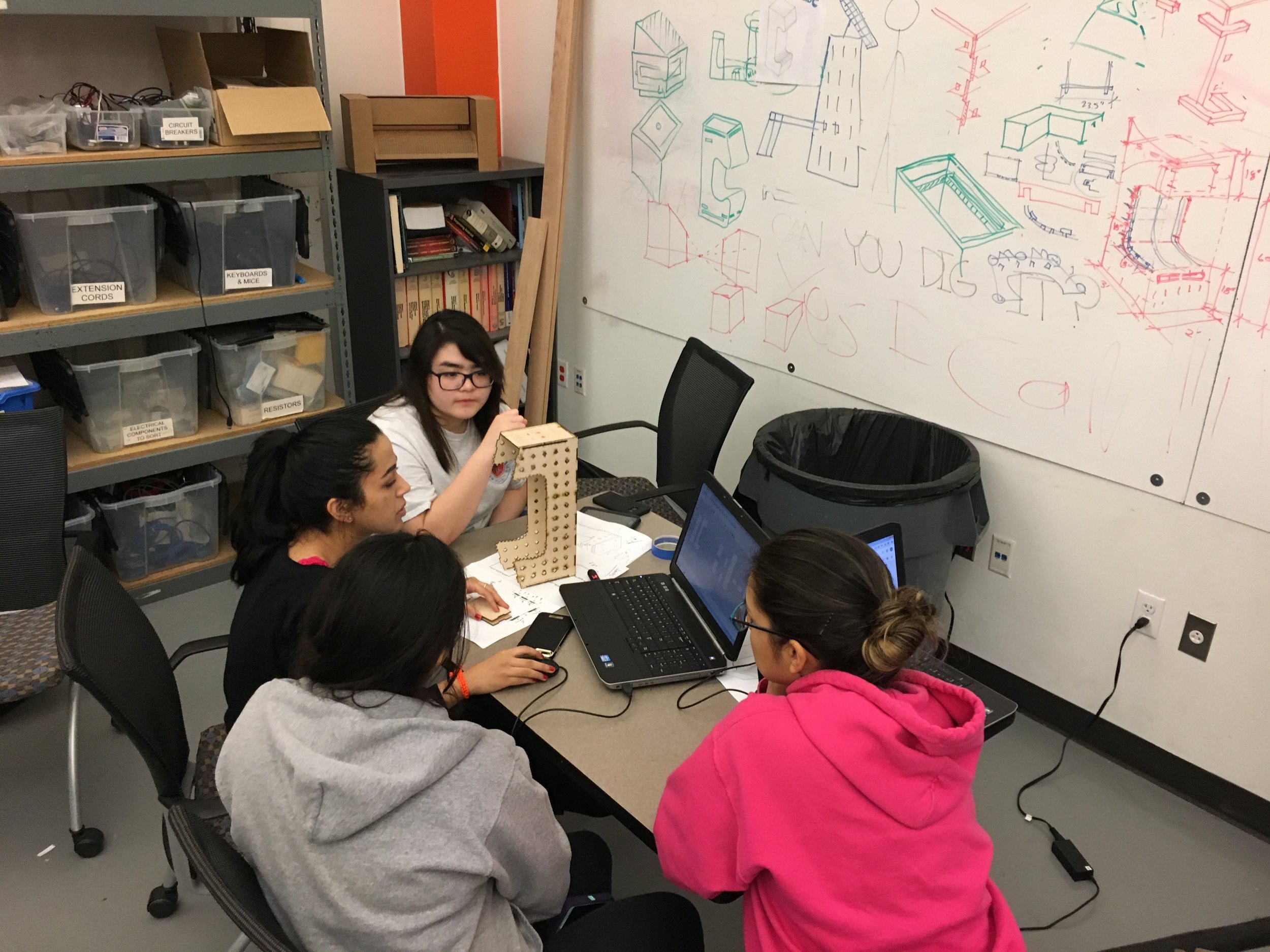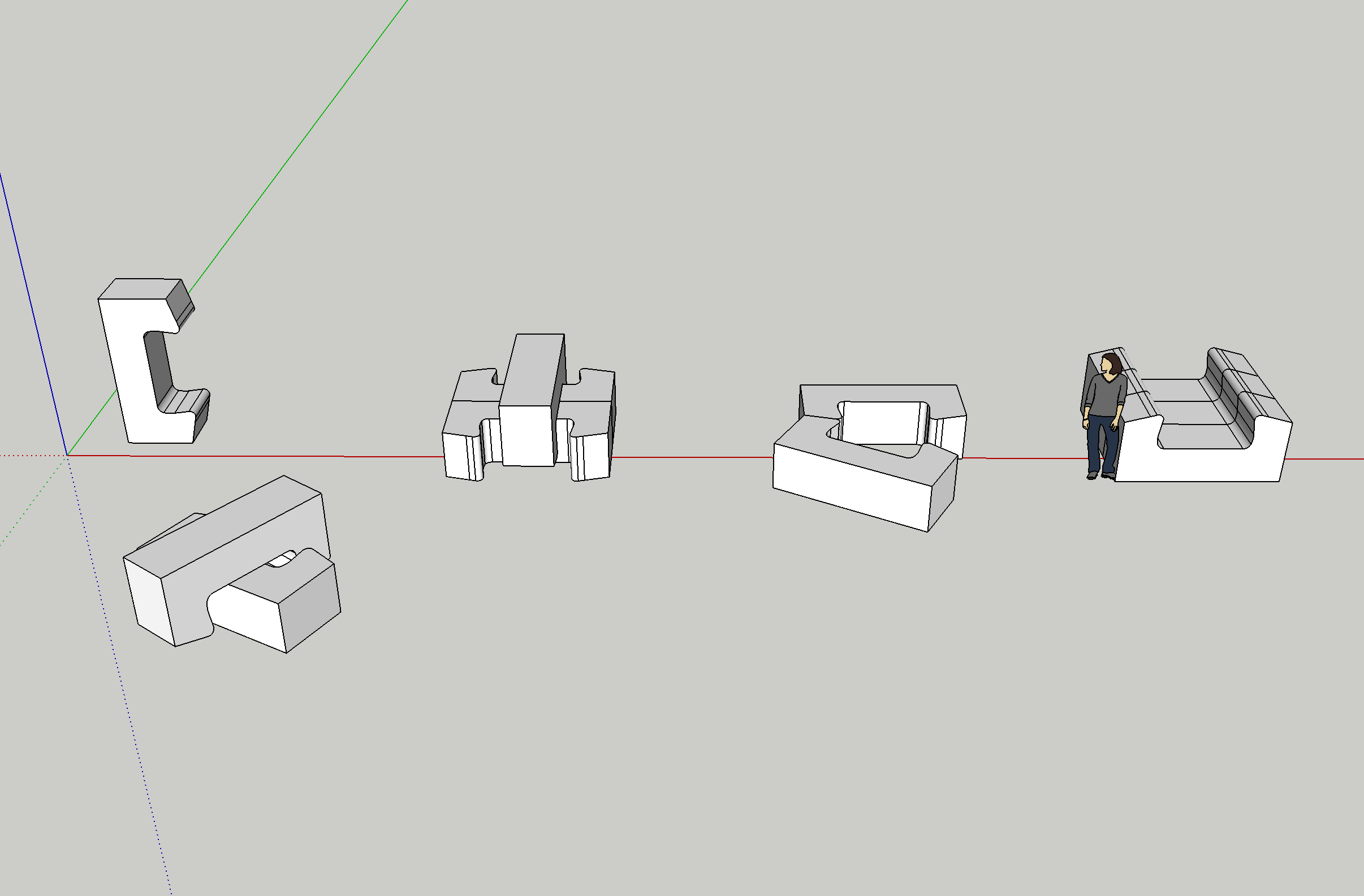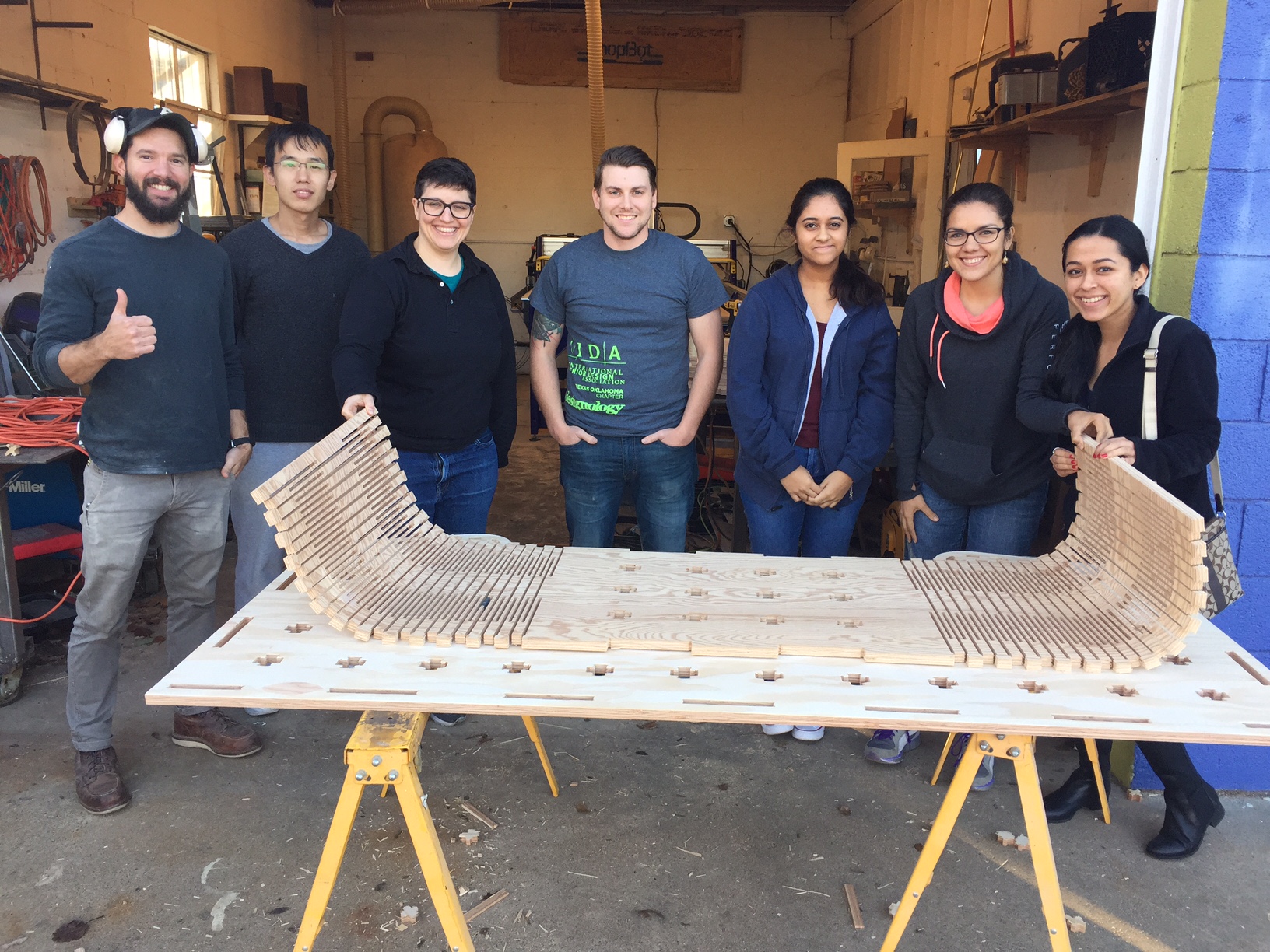 Summary
The ModPod and all accompanying collateral was presented to the client and community stakeholders at SMU on the final day of the IDC. In time, the project will be uploaded to Wikiblock and become part of a growing catalog of designs that can be added to any public space. The assets handed off include all the design research, a few 1:6-scale diorama ModPods, a full-scale prototype ModPod, numerous mods (i.e. the bike mod, solar mod, hook mod, outlet mod, shelf mod, and cubby mod), technical drawings, assembly instructions, a brand and brand assets, a prototype locally hosted website, budget, supplies list, and technical specifications and build for the solar charging circuit/battery box.
As a student advisor to the project I helped guide my peers on the human factors team through the human-centered design process and synthesis as well as rapid prototyping. I also designed and built the example website hosted on the ModPod computer. This project was an interesting intersection due to its calling upon traditional engineering disciplines to create an efficient solar charging system and sturdy structure as well as the design discipline to inform a human-centered solution. I am privileged to have been able to experience and guide students in both.